Results of the Women Architect of the Year 2020 Award
Young Woman Architect
Award 2020
OH!SOM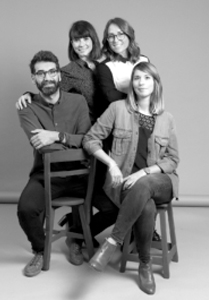 8th Awards Ceremony for Women Architects
8ème cérémonie du prix femmes architectes en direct
ARVHA, Association for Research about City and Housing, launches in 2018 the 6th edition of The Prize of Women Architects with the support of the Ministry of Culture and the Ministry of Family, childhood, and women's Rights, the Pavillon de l'Arsenal and the National council of the Order of Architects. The Prize of 2018 has also the support of BNP Paribas Real Estate, Ciments Calcia, Rockwool, Technal, Unibail Rodamco and Saint Gobain.
This Prize aims to highlight the Works and the careers of women architects, so that young women architects may be inspired by existing feminine models, and encourage the parity in a profession with a male dominance. The conditions to participate to the Prize are to be registred to the Order of Architects and to be the author of the projects presented.
Prize young woman architect: under 40 years old, 3 to 5 projects realized or not.
Prize Original work: realized by a woman architect
Prize woman architect: 3 to 5 projects built
International Prize: 3 to 5 projects built by a woman architect registered to the Order of Architect of her country, except France
Documents to download to register for the 2020 Prize: :
You can download the 2020 press releases:
Video and photos of the Conference of the exhibition of the ARVHA Women Architects Award Winners
Mairie du 3eme arrondissement de paris, 2 rue Eugène Spuller 75003 Paris.
Film of the 2019 Women Architects Award Ceremony
Interview of Catherine GUYOT