LE PRIX FRANÇAIS DES FEMMES ARCHITECTES
WHY A PRIZE OF WOMEN ARCHITECTS ?
This prize aims at highlighting the works and careers of women architects in order to inspire young architects and promote equality in a mainly male profession.

THE JURY
The jury is composed of :
laureates of the previous year
members of French institutions
members of architecture organization
French and international women architects

THE AWARDS
3 categories of award :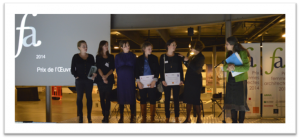 Young Woman Architect (3 to 5 works)
Woman Architect (3 to 5 works)
Original Work (1 work) and Special Mentions.

THE PLACE
Explain the "architecture" of the city
Created in 1988, the Pavillon de l'Arsenal is the centre for information, documentation and exhibition for urban planning and architecture of Paris.

YEAR AFTER YEAR …
AN INCREASING NUMBER OF PARTICIPANTS AND PROJECTS :
In 2013, 108 participants for 448 projects.
In 2014, 128 participants for 601 projects.
In 2015, 173 participants for 692 projects.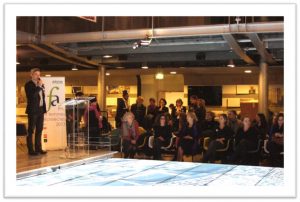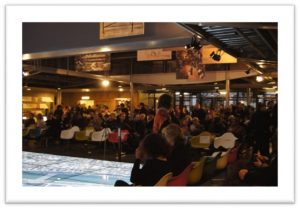 And more and more people are coming to the ceremony !
2020 : Eighth EDITION

The Jury
The Laureates

Agnès SAAL ministère de la Culture
Spela KUHAR vice-présidente du jury représentant La chambre des architectes de Slovénie -SLV
Sophie BERTHELIER Lauréate 2017
Bettina DREIER chambre des architectes autrichienne  – AUT
Iris WES chambre des architectes allemande CEA Allemagne
Catherine GUYOT (ARVHA) présidente du jury et présidente de WIA Fr
Beatrice AUXENT Architectuelles
Catherine PAPILLON BNP PARIBAS REAL ESTATE
Elizabeth GOSSARD élue CNOA

OS!HOM architectes
Sophie DENISSOF
Cathrin TREBELJAHR
Florence LIPSKY
Anna HERINGER
Benedetta TAGLIABUE.
2019 : Seventh EDITION

The Jury
The Laureates

Claudia Mattogno professeure Sapienza Presidente du jury Italie
Nicole Concordet
Veronique Descharrieres
Sophie Berthelier
Katharina Froech Autriche vice présidente de la chambre des architectes autrichienne
Katja Domschky Membre du task force WIA CEA Allemagne
Catherine GUYOT (ARVHA)
Beatrice AUXENT présidente de Architectuelles
Catherine Barbiez Azan _fondatrice du prix Ital Ciment – ciment Calcia

Marie Perin TICA architectes et Urbanistes
Fabienne Bulle
Marie France Chatenet
Dominique Jakob jakob+macFarlane
Elisa Valero
Francine Houben Mecanoo Architecten
2018 : Sixth EDITION

Thee Jury
The Laureates

Nathalie CHOPLAIN (Ministère de la Culture)
Christine CARBONI (Cité de l'architecture)
Béatrice AUXENT présidente d'ARCHITECTUELLES
Elizabeth GOSSARD (CNOA)
Augustin FAUCHEUR(CROAIF)
Sophie BHERTELIER
Dominique MARREC
Cécile MESCAM
Linda GILARDONE de La Architectures
Marie BLANCKEART
Carin SMUTS architecte d'Afrique du SUD
Sibylle SCHENK architecte allemande, membre de Women in Architecture DE
Veronika SELIG et Martina HAUSER architectes Suisses,
la Présidente du Jury Anna SCHABEL, Présidente de Women in Architecture UK
Catherine GUYOT directrice de l'ARVHA et Présidente de Women in Architecture FR

Lauréate Jeune femme Sandra de GIORGIO
Mention spéciale Marie ZAWISTOWSKY
Œuvre originale Bathilde MILLET
Prix international Amanda LEVETE
Nicole CONCORDET
2017 : Fifth EDITION

The Jury
The Laureates

Eva ALVAREZ (Es)
Fulvia FAGOTTO (It-ADDA)
Silja TILNER (Au)
Ingrid TAILLANDIER
Catherine GUYOT (ARVHA)
Tania CONCKO
Véronique JOFFRE
Vincent LACAILLE (Ministère de la Culture et de la communication)
Beatrice AUXENT (Conseillère CROA Haut de France)

LA ARCHITECTURES
Marie Blanckaert
Cécile Mescam
Sophie Berthelier
Dominique Marrec
Carme Pinos
Carine Smuts
2016 : Fourth EDITION

The Jury
The laureates

Andrea KLIMKO, Architecte, Slovaquie
BORSUK Theresa, Architecte, Angleterre
Olivia E. Schimek-Hickisch Autriche
Catherine JACQUOT ou sa représentante , CNOA
Beatrice AUXENT Présidente du CROA Nord Pas de calais
Agnès VINCE ou sa représentante, Direction des Patrimoines
Ministère de la Culture et de la Communication, ou sa représentante
Corinne VEZZONI, Architecte
Véronique DESCHARRIERES, Architecte
Nathalie REGNIER KAGAN , Architecte
OECO ARCHITECTES , Architectes

Véronique Joffre : Woman Architect
Amelia Tavella : Prize Young Woman Architect
Tania Concko : Prize Original Work
Ingrid Taillandier : Nominee Woman Architect
Eliane Castelnau : special mention pioneer
2015 : Third ÉDITION

The Jury
The laureates

Laura Perreti , Architecte, Italie
Angela DEUBER architecte suisse
Mme FERNANDEZ Ministère de la Culture Direction des Patrimoines
Christine LECONTE, CNOA
Beatrice AUXENT, Présidente du CNOA Nord Pas-de-Calais
Architectes
Manuelle GAUTRAND Architecte
Christiane SCHMUKCLE MOLLARD
Myram ASFORD BROWN Architecte AGNÈS ET AGNÈS, Agnès VILLEMIN et Agnès CHYSSOSTALIS,
Catherine GUYOT, Directrice de l'ARVHA

Corinne VEZZONI Femme architecte
Véronique DESCHARRIERES Œuvre Originale
Oeco ARCHITECTES jeunes femmes architectes
Nathalie REGNIER KAGAN mention
2014 : Second EDITION

The Jury
The Laureates

Karin RENNER, Architect, Germany
Christine LECONTE, CNOA
Beatrice AUXENT présidente du CROA Nord pas de calais;
DES CLICS ET DES CALQUES, Camille BESUELLE, Nathalie COUINEAU et Mathilde JAUVIN, Architects
Odile DECQ, Architect
Anne DEMIANS, Architect
Catherine GUYOT, Director of ARVHA

AGNÈS& AGNÈS ARCHITECTURE, Agnès VILLEMIN et Agnès CHYSSOSTALIS
Manuelle GAUTRAND
Maryam ASHFORD BROWN
Christiane SCHMUCKLE MOLLARD
Renée GAILHOUSTET
2013 : First EDITION

The Jury
The Laureates

Christine LECONTE, CNOA
Maryline LAPLACE, member of the French Ministry of Culture and Communication,
Angela BRADY, President of RIBA
Doina BUTICA, Treasurer of Romanian Architects Organization,
Béatrice AUXENT, President of CROA Nord Pas-de-Calais
Catherine GUYOT, Director of ARVHA

Odile DECQ
Anne DEMIANS
Jocelyne BERHEND
Françoise-Hélène JOURDA
DES CLICS ET DES CALQUES